I know as much as you want to hear about my work as a service designer, a sociologist, and avid observer and connoisseur of cities, you also know I live in Tainan and you want my list of where to eat. I get it, I'll receive your eventual LINE message asking me to send you my google map recommendations, but let me take this opportunity to give you something more than google reviews can provide; the story behind every recommendation. 
It's no secret Tainan is known for its food, as every guide book on Taiwan will make sure to mention its famous reputation, and the distinctly sweet taste of its dishes. The food has wowed me to the point that trips longer than two days out of Tainan have me sorely missing the wide array of local tea shops and sesame noodles. However, Tainan is rich not only in flavor but in company, and this is my personal reflection on where to eat and go, compiled not from a guide book, but from memories of living leisurely in Tainan, and from a patchwork of experiences with my friends, the city, and of course–the sharing of food.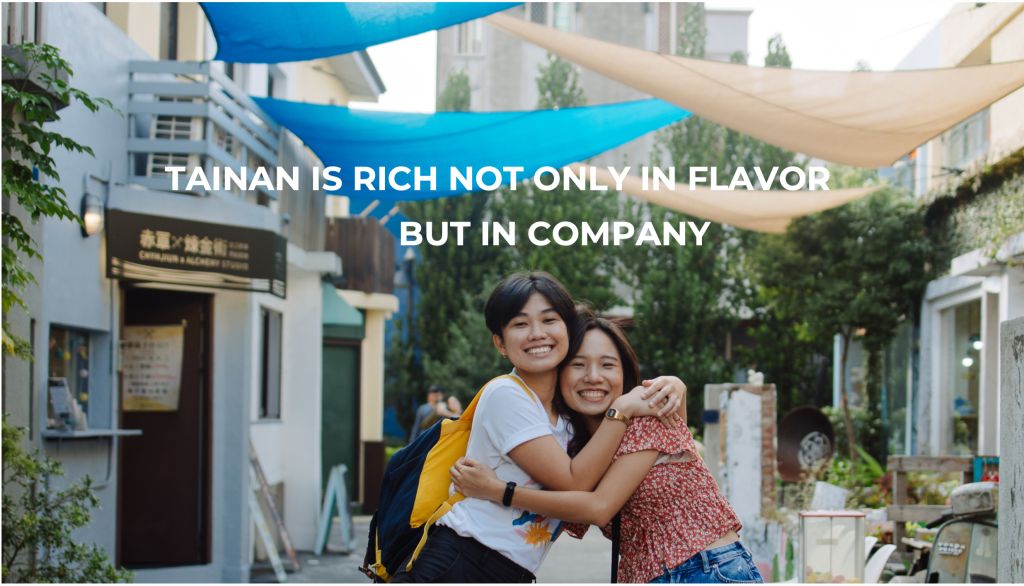 Intro- Of course you want to try Xiao Long Bao 
I have to admit, Din Tai Fung (DTF) was my initial introduction to Taiwanese food. The popular XLB franchise, which I've dined in from the Philippines to Portland, also serves as a long overdue visibilization of some of Asia's most underrated cuisine. However, after living in Tainan I can assuredly say that I'm never eating at DTF again. While DTF gave me the necessary 101 on what to order at a Taiwanese restaurant, and many selfies with their Xiao Long Bao (XLB) mascot famously located outside of their stores, Tainan offered me beyond what my only having dined in DTF could imagine. Instead of a smiling XLB mascot, Tainanese locals were happy to show the way. 
After a few weeks in Tainan, it didn't take long for me to see that a 10 minute walk from my house down Dongning Road that there's a similar (eerily similar to DTF's mascot) XLB mascot dressed in a chef costume with a perpetually smiling face. I noticed that whenever I'd walk by this restaurant there would always be groups of aunties, families, and couples waiting outside its door.t. 
"You know the reason Din Tai Fung won't open in Tainan is because of this restaurant?" My language exchange partner, Stacey told me, on one of our many field trips there. Stacey is local Tainanese, and, besides being a fellow classmate in my Masters program, she is also a bakery owner, and is pioneering cinnamon rolls for the Tainanese market.
上海好味道小籠湯包 didn't fail, I could endlessly munch on its side dishes all day, and the XLB was gone too fast, with its seamless service, array of food choices, and side dishes, I, too, would be intimidated to compete against this restaurant. 
But in my opinion, and in all honesty, 上海好味道 restaurant isn't even the best one, and if you read to the end you may find out what my top two are ;). Tainan offers better, and judging by the many dinner trips with friends, consuming numerous bowls of rice, kung pao chicken, and bottles of Taiwan Beer, 上海好味道 is just the beginning.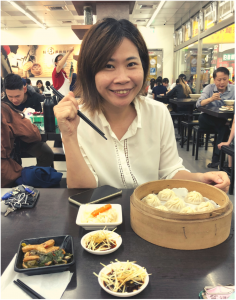 Lunch- because I'm never awake early enough for a hearty breakfast
I've been waiting for my mom to visit me in Taiwan just because I want to take her to this restaurant. But, before Veggie Day(素一日) became my weekly Tuesday haunt, where I would order fried tofu with fermented vegetables, a cup of white rice, and oat milk latte, I first stumbled on it on a famously hot and humid Tainan day. It was my first week in the city, and I was lost after roaming my campus. Veggie Day offered a much needed air conditioned respite, with vegetarian and vegan food that felt like a necessary cleanse from the fried pork cutlet I had the night before. While fumbling through the menu because of my inability to read without using google translate's photo viewer, the owner noticed me and quickly approached. She made some recommendations. This initial veggie day trip I had their vegetable tempura, which tasted fresh, and crispy, without being weighed down by oiliness. It was heaven on a plate that went well with their complimentary soup; I gobbled it within 5 minutes of taking my Instagram story photo. But before leaving, the owners, who I came to know as Chia and Jacky, stopped me "wait!" "Keep your receipt, you might win the lottery! After explaining to me the receipt lottery system in Taiwan they asked about me, I admitted it was my first week being able to explore Tainan. They told me they opened three weeks ago (incidentally when I also arrived in Tainan thanks to quarantine) but were struggling to market their meals to a meat-loving community. They then told me, next time you should bring friends so that you can try more meals. I remember thinking to myself, but I don't know anyone yet. 
Needless to say, I eventually brought every new person I met to repay the kindness on that first day. Eventually, the Veggie Day owners took me and some friends to a Mala Hot pot place, which felt more like a palace than a restaurant. We also visited a former historic optometry clinic turned bar, where their restaurant connections got us numerous on-the-house shots of tequila. They've treated my friends and I to their other restaurant which offers European fair, located in Tainan's pier district, and every Tuesday on my lunch trip there, they sometimes include a side of BBQ tempeh. It's true what they say about Southern Taiwan hospitality, and through Chia and Jacky I feel like I experienced it 10-fold. When I visit the restaurant now, it's filled to the brim and is gradually leaving an impact on the community as a premier vegetarian restaurant.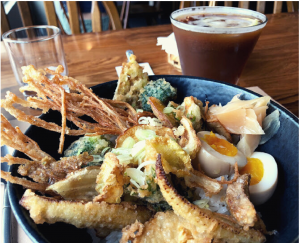 We also visited a former historic optometry clinic turned bar, where their restaurant connections got us numerous on-the-house shots of tequila. They've treated my friends and I to their other restaurant which offers European fair, located in Tainan's pier district, and every Tuesday on my lunch trip there, they sometimes include a side of BBQ tempeh. It's true what they say about Southern Taiwan hospitality, and through Chia and Jacky I feel like I experienced it 10-fold. When I visit the restaurant now, it's filled to the brim and is gradually leaving an impact on the community as a premier vegetarian restaurant.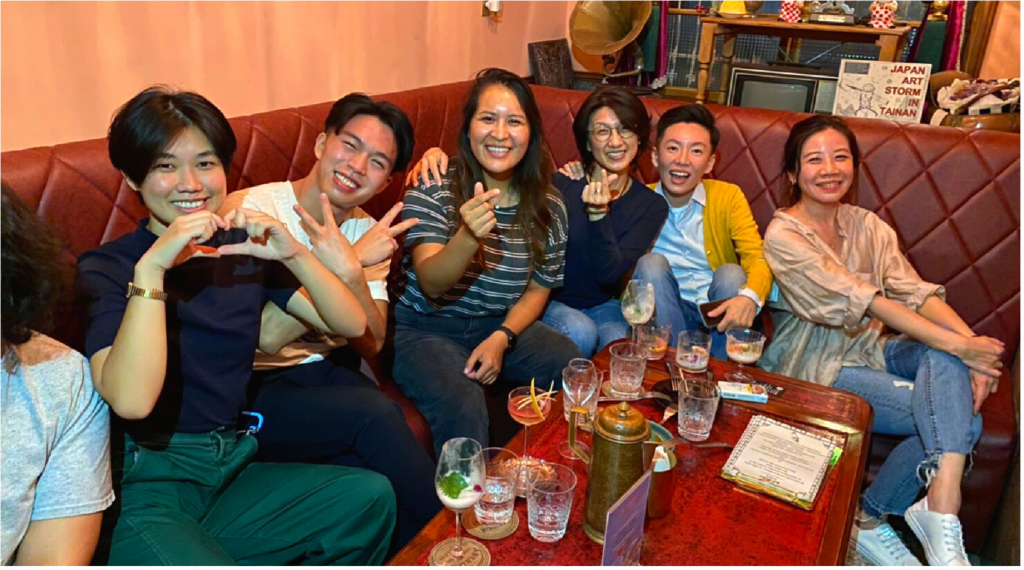 Afternoon Tea- Well, because you're in Taiwan and you have to have tea
A friend of Chia and Jacky's who I met the night we went to a hotpot that happened to own her own specialty tea store, 揣茶. Her name was Apo and her family had been in the tea industry for over 50 years, after inheriting the tea business from her parents, she had re-envisioned it with a smooth contemporary flair. Her interior and product design was seemingly an extension of her cool aesthetic. On the day I told Apo I would visit, I invited my classmate, a Thai PhD student named Bill who I felt would appreciate Apo's design sensibilities. On the day Bill asked if it was okay if she brought another one of our classmates and friends, who then brought another friend and a friend's roommate. Soon the small tea shop was filled with Chengda students, sitting at the bar like eager ducklings and enjoying our cold tea which was topped off with a singular ice cube made of tea (in order for the drink to not get diluted by water of course). Apo, despite the newfound crowd, gracefully prepared for me the traditional hot tea as a gift, which I sincerely appreciated.
I smiled at Apo sympathetically, and we each shared some nervous glances at the crowd that had just amassed. Nevertheless we were all enjoying tea wholeheartedly. I came to realize one thing I appreciate about Tainan, you never know who you'll run into, or who will want to join you for tea or a meal.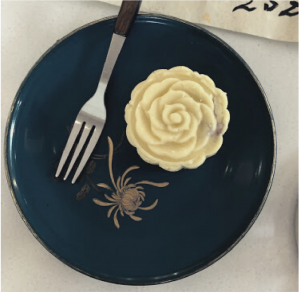 Merienda (afternoon snack)- My excuse for having more meals in the day, but also because I'm unapologetically going to order another tea
Speaking of tea, did you know Tainan has more tea stores than 7-11s, Family Marts, and all the other convenience stores combined? Within a 5 minute walking radius from my house you encounter at least 7, most are not big franchises and instead have their own specialty and flair. However, no other tea is as iconic as BOG, a frequent spot for Chengda students, and alumni alike. I often go there to order my very affordable green tea with mint jelly (less sugar, easy ice), and order an extra green tea for my language exchange partner before visiting her house. Stacey, my aforementioned language exchange partner, told me she ended up buying her apartment because of its proximity to BOG where she had special memories going on dates with her husband. Before she opened her bakery, she eagerly offered me cinnamon prototypes for her future bakery (I would always happily oblige). Her husband recently retired from the military and is now a baker. He makes traditional rolls as well as brown sugar rolls to accommodate her friends who were skeptical of cinnamon rolls because of its reminiscent smell of Chinese medicine.
Months after we initially began language exchange Stacey opened her bakery, I EAT (愛意特點心店), in a historic Snail Alley. Snail Alley is somewhat a maze of historic Japanese era houses. Stacey gave me a tour before her soft open, and I noted how between the brick alleyway streets were temples, hip bars, cafes, and just regular residents who have been living there forever.
This was very quintessential Tainan, a mix of new and old, and traditional and global. After their opening I would visit to pick-up a sweet treat if I was meeting someone for dinner, (and again would often run into friends and classmates). Recently, I saw Stacey's bakery shop featured in articles, and videos especially because of her snail style cinnamon, which is the traditional roll modeled to look like a snail with pocky topped with cream cheese or sweet caramel drizzle and walnuts. In Tainan, you never know when you'll stumble into someone's new project, and watching it grow and develop is always a treat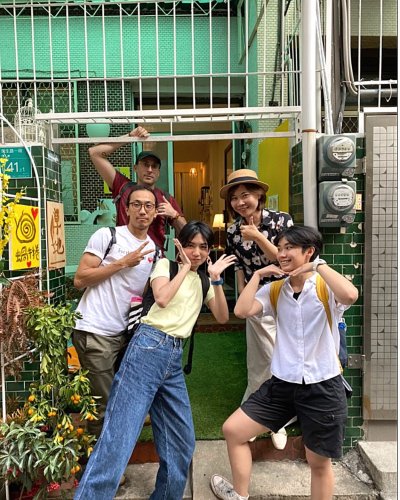 Dinner- Do you want to eat dinner together *big eyes emoji*
Almost every night I text my friend Pei, "Do you want to eat dinner together?," because everytime, without fail Pei takes me to a restaurant that will not disappoint. After classes I make my way to the historic West Central District and visit the printmaking studio I intern at, partially to "work" but also to accompany my friends who are the studio's owners to dinner. The studio is nestled right by historic Minquan First Road. I'm never hungry when I'm there, since the fridge usually has snacks from visiting guests. It's also located near a traditional candy store where the poisely made-up Aiyi is happy to give you free samples of dried sweet and salted fruits as you pick through bright colored candy wrappers and buy bags of dried fruits and sweet potato chips. But as I said, Pei has never taken me to a restaurant that's disappointing. Born and raised in Tainan, Pei is known for having strong opinions on food, unapologetically claiming when she doesn't like something halfway through the meal. It also means her taste and standards are impeccable, and she'll always save a bite of anything from her cold wasabi noodles, to her chicken feet for me to try.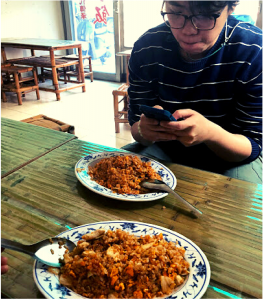 One of the first meals I ate with Pei was at my #1 XLB place, 上海味香小吃店. Although the entryway to the restaurant is small, patrons are welcomed and wowed by the sheer flawless vigor of the uncle folding 30 XLB a minute. I often ask Pei to have dinner with me at 上海味香 小吃店, but when it isn't open we walk 5 minutes to another one, reviewed on google as being delightfully tasty, Michelin starred, but with extremely off-putting staff. While these reviews were extremely accurate, their kung pao chicken goes down well especially with Taiwan beer, and even if your budget is a bit slim that night (let's say 100 NTD for dinner), their fried rice topped with fried pork is a tasty way to enjoy the evening.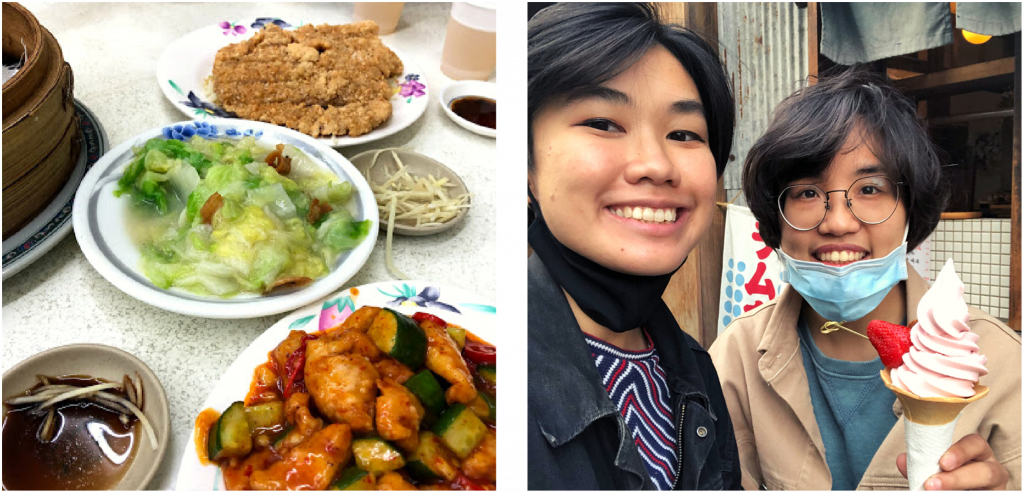 But our usual haunt, just a mere 3-5 min walk from the studio is an unnamed noodle restaurant, unfindable on google maps, and is only distinct by the giant "麵," which is placed right beside the salted meat they dry on the side of the road. I've tried many times to recommend this restaurant to a friend visiting Tainan, but their absence on google maps has only allowed me to give them a recommendation.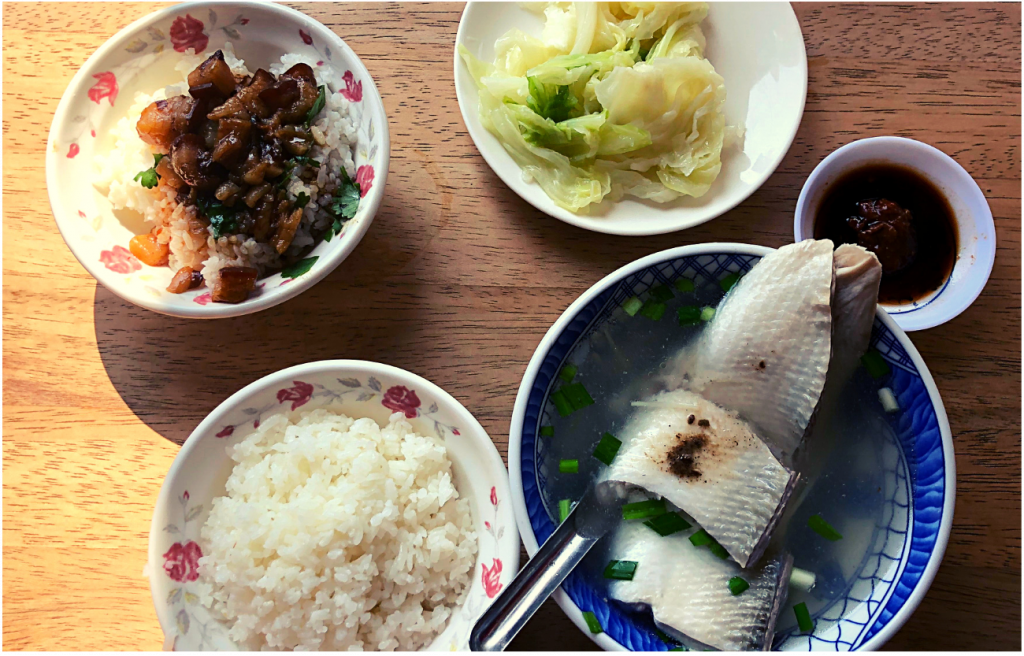 However, this noodle restaurant is old, and has been around since perhaps the 1960s, its wall is decorated with vintage 1920s Shanghai-style advertisements, and their staff are second or third generation running the store. I typically order sesame noodles with pork dumplings in chili oil (what they're famous for). I'm bad at ordering outside my favorites, so it's a good thing Pei always changes her order, and shares a bite with me. Among others we've eaten at an outdoor Rechao restaurant by a temple, another nearby lamb rice place, fried sweet potato balls that we always take to-go in our reusable containers, and on a trip for an exhibit outside of downtime, she took me to a fried rice restaurant that's changed my life (for the better), and many, many more. I can't count the times I've told Pei this is the "best meal of my life," I've probably said it so many times that I've gotten redundant and Pei always chuckles, filled with pride at what her hometown is capable of cooking up. I laugh as I enjoy the meal and even more so the company. 
Breakfast- But only near midnight, or with a bunch of uncles 
While I won't recommend where to go for breakfast, Taiwanese breakfast is unparalleled and deserves a category of its own. As a bonus however, there is a milk fish soup restaurant that I always beg Pei to go with me for brunch. As per her suggestion, I will include that the best way to indicate if a fish soup restaurant is good is to see if there are a bunch of uncles dining there. Trust me, there's no greater peace you find living in Tainan than enjoying your hot cup of milkfish belly in the company of uncles reading the newspaper. 
Although I do want to note– as breakfast is a 24 hour affair, it's best to end my recommendations by spotlighting 24 hour soy milk and breakfast restaurants. I recently discovered one near my house, and it was the perfect late night stop to grab lightly sweetened soy milk to help keep me up for a 1:00 am Zoom Fulbright panel for my alma mater. 
I think designer Cara has to enter back to tie this all up. Tainan excites me because it's a place where local businesses can thrive. It's where food becomes more than a commodity to be consumed through a systemized experience (like through a famous franchise perhaps) but made even more remarkable because of the inimitable service experience. I find that when people search for food they're searching for "authenticity," and I can assuredly say that there is no singular "authentic" Tainanese taste, or singular dish that can claim the "authentic" Tainanese identity, because there is no singular authentic Tainanese experience. I feel lucky enough through Fulbright to move from being a tourist in the city to actually being able to build connections with the communities around me. Those connections further an understanding into knowing the difference between where to eat in the Amping district vs. West Central, and also knowing that Dongning Road is full of heavenly gems. So if you find yourself in Tainan after receiving my text of recommended restaurants, I hope you stop by, tell the owner I recommended it to you, and grab a bite. But I also hope you get lost. I mean, sincerely get lost through the temples and parks, find a hole in the wall mom-and-pop that has been around since the Japanese era, and find your own special restaurant, and also get to know the folks behind it. From my experience living in Tainan, sharing food with my community has truly been the most sweet.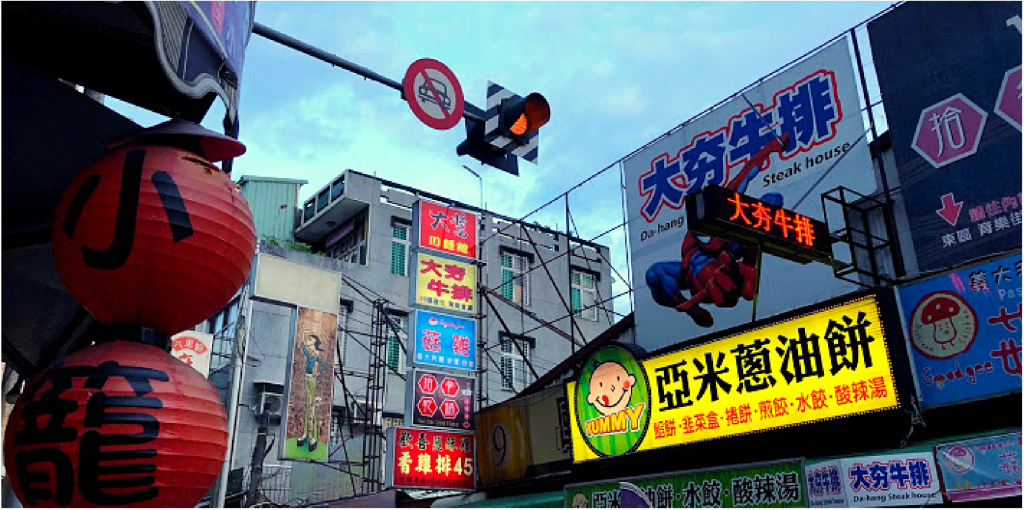 Managing Editor: Yuping Chang 張瑜玶