2035 vs. 2020
Dubbed "the turnaround king" in arts management, Michael M. Kaiser, the author of Curtains? The Future of the Arts in America (2015), knows the arts industry better than most. "Long before 2035," Kaiser writes, "It is likely that many productions will be available for viewing at home, on demand." Furthermore, he predicts that "While these performances should attract sizable audiences, there will be a reduction in overall demand for the classical arts." Why? "Another two decades without comprehensive arts education and the passing away of many current arts lovers and supporters." But all of this "will" in his book is happening now. Today, classical musicians and their managers are trapped in all the crises which Kaiser writes about in his book, years earlier than he expected them.
After two years of the COVID-19 pandemic's impact on the performing arts industry, we are making efforts to move forward and find ways to survive. We may discover something that will help us along the way by opening a drawer of history. In the drawer, there is a case that we can refer to: a unique classical music project created by integrating pieces from the classical canon with creative, cross-border and cross-field elements to attract a wider audience. In our hand, we have Yo-Yo Ma's three recordings of Bach's Six Suites for Solo Cello. These recordings were made in three different decades, in three different eras of his life. When Michael Stern, the conductor of the Kansas City Symphony, asked him why he had recorded Bach's Six Suites for Solo Cello for the 3rd time, he answered that we might revisit a book in our thirties that we read when we were twelve, and find "It's a different book." In this following article let us try to open this different book to find a new strategy for the future.
The diversity of Bach's Six Suites for Solo Cello
Cellist and researcher Marianne Dumas has found more than 200 recorded renditions of Bach's Six Suites for Solo Cello from the last 80 years. Of all its recordings, it is worth studying how Yo-Yo Ma looked outside of the traditional classical field for inspiration to turn Bach's music into diverse products and projects. In 1983, when he first recorded this piece, it was a golden age when CDs generated major profit for the record company. Like other well-known musicians, he doesn't need to do much, the recording sales follow the tour, which naturally brings in substantial revenue.
The 2nd recording named "Inspired by Bach", in 1998, he is not only a cellist, but he and Bach's music had become creative protagonists through which the "hot" six directors used their imaginations. It's the unquestionably successful project using the crossover concept. The diverse product of the 2nd recording has both audio and video, six movies in addition to the CD. Not only did Yo-Yo Ma connect music and film, but he also generated a special project in urban development in Canada – a music garden inspired by Bach in Toronto, like Hudson Yard and the Shed. 
Development and construction like this, using a cultural and artistic theme, has become quite popular in Taiwan and China over the past two decades. As projects of this type spread across the Pacific, this music garden will still be of a great reference value. This kind of plan requires a long and complex communication between many actors in the public and private sectors. However, its execution and integration are a very worthwhile investment both for cities and for today's performing arts administrators.
An album and a Bach Project, the 3rd recording is an entire cultural project. Bach's music became a platform to allow Yo-Yo Ma to stage conversations with urban and minority communities. There are numerous cooperating units involved, especially NGOs and community governments in the Bach Project. Obviously, this project is not profit-oriented. The purpose is to connect different communities and NGOs from all over the world. But for art administrators, it raises a bigger challenge – more fundraising, coordination and communication.
In August 2018, Yo-Yo Ma began the Two-Year Tour to perform Bach's suites in 36 locations around the world. However, the COVID-19 pandemic cut the World Tour six months short. Since he and other musicians couldn't go out to play the concerts, they had to switch to developing a digital promotion and virtual concert to share Bach with even more people. Yo-Yo Ma's first online concert of his career went live on May 1, 2021. The official trailer of his first online masterclass appeared on October 21.
Everything is different. But we can, like Yo-Yo Ma and his business team, use cross-over cooperation with an open mind to create new opportunities in the second and third Bach's recording projects and to combine the newest language of the online world at the same time.
The OMO Concept
Apple first released the iTunes media platform in 2001, which started the OTO (Offline to Online) era. However, in the OTO era, the performing arts have not yet fully utilized the online business model. Artists and companies mostly use social media and the internet as publicity channels to accumulate more fans and to do promotions. However, the online world provides many more marketing opportunities and new possibilities for production than just building an audience. There is great potential for innovation in combining online, offline, and curation.
In 2020, the pandemic quickly pushed everyone into the virtual world. Overnight, online merged with offline. OMO, (online merging offline) is a business model of virtual and real integration and a new marketing concept too, which was published by former Google global vice president Kai-Fu Lee in a 2018 "Economist" article. As Lee describes, OTO is the one-way movement of the physical world to the virtual world. The OMO is a multi-directional fusion of the physical and the virtual. To this framework, I add the concept of three-dimensional thinking acquired through curatorial experience to propose a new marketing and production model. This new application model could help us today, and into the imminent world post-Corona.
What are the new and important things for future arts administrators?
OMO with a visual Arts-style Curatorial Practice is the natural progression of OTO. Combining these skills merges the best of online and offline retailing to create business opportunities, and also gives the best experience to customers, another one is the ability to design and the management for the exhibition. In a word, I believe that combining both the professional thinking and skills of the digital business/e-commerce and the management of the visual arts could be one of the new ways for performing arts administrators.
What merged with what?
Before the pandemic, we had long been accustomed to planning, marketing ,and selling performing arts based on the number of seats in a physical performance space. It was also essential to start promoting and finding co-sponsors before the show and ticket sales. All the effort and execution are for a one-off live show. If I describe Company A as producing and marketing one-time physical performances, then another new Company B is producing and marketing unlimited virtual performances with no time limit. Now Company B has merged with Company A. Due to the impact of the pandemic, Company B has the dominant power in the process of mergers and acquisitions. Which department and what kind of manpower will Company B keep in Company A, which department will be closed, and who will be laid off?
Old and New


This chart presents the impact and changes brought about by the OMO era. To a record company's operating structure,the business personnel responsible for traditional physical channels are of course the first to be eliminated. It should be said that in the OTO era, almost two decades ago, many record company employees responsible for physical distribution were eliminated. Marketers who don't understand digital marketing operations are also displaced. Human resources, finance and legal administrators of record companies and the performing arts related companies/organizations with creativity as the core of their operations are relatively less affected by the tide of changing times. On the one hand, the proportion of these departments in the company and the operating costs are relatively small. In the process of company mergers, the personnel changes in these departments are minor, and the layoff of basic personnel will not change significantly.
Now the most important change department we are going to discuss is A&R: artist and repertoire. The importance of A&R is like the R&D center of a high-tech company; it is absolutely essential to the company's output. It determines the product and the company's revenue model. What is the biggest impact of the pandemic on A&R? The long-standing test for A&R has been: do we create and deliver this great content to consumers? Or do we take inspiration from consumers' preferences and trends to create the content products they need? Is the company drawing its ideas from the supply-side or the demand-side of the market? Obviously, from the OTO era to the OMO era, the company executives who led the mergers will choose to keep the latter's A&R personnel. Those who are good at obtaining A&R inspiration in the consumer market
The new challenge in the post-pandemic era is the need to pay more attention to the needs of consumers in the virtual world. For A&R personnel operating in the performing arts field, I would recommend re-emphasizing the importance of cross-over and cross-field integration, especially how to combine the curatorial practices from visual arts with performing arts shows. This will be an essential new ability. I call this new capability the curatorial power of OMO. Below I will illustrate this potential with a specific example: the 'floor plan' of Hsinchu County, my birthplace in Taiwan.
Application by the space design of the management from the curation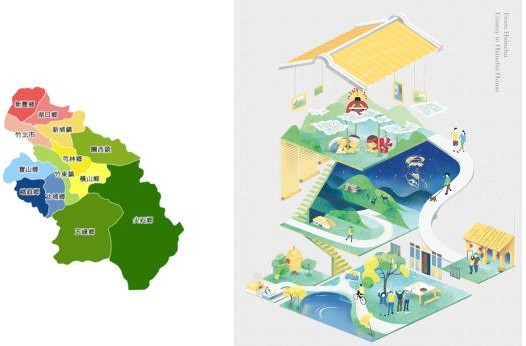 I propose this picture to explain.
On the left is a graphic representation, a 'floor plan', of my birthplace Hsinchu County. An ordinary tourist visiting Hsinchu will typically experience the place in this way. This floor plan tells you that there are 16 townships in Hsinchu County and where they are located. The image on the right I call a three-story museum without walls. I turned the plan of my hometown on the left into an imaginary three-storyart museum with the geographical environment, humanistic stories and particular local sensory experiences. Through curatorial techniques, certain aspects of the place are highlighted and brought to the forefront of a visitor's awareness. At the same time, according to the characteristics of each floor, the visit circulates. These imaginary circulations are completely designed from the experience of the real environment.
The question here is whether three-dimensional marketing communication better engages an audience, donors, patrons, and others. And if yes, how was the goal achieved?
Using the OMO concept of the Hsinchu floor plan could guide the audience through an immersive multisensory space of displays. This allows the audience to focus on the topics and concepts of the exhibition or performance. The interest that this generates shows the distinctive advantages of differentiated marketing and curation. The Hsinchu floor plan was far more engaging for investors at the Taiwan City Summit/Intelligent Community Forum than a simple map would have been. An immersive performance, as is now possible with modern streaming, is also far more engaging for a viewer than an old-fashioned video production.
A map of Hsinchu only offers a viewer information on geographical locations. But as they say, "A map is not the territory." The Hsinchu floor plan offers travelers a way to experience the place with all of their senses. Similarly, a music album only allows a listener to hear the recording. Record companies producing classical music albums and concerts have relied on this one-dimensional presentation for too long. In the OMO era, we have to offer music fans more distinctive ways to engage with performances. That's why I put forward the combination of seeing and listening, that is, the fusion experience of visual art and performing arts as the future operation strategy of the classical music market. Much as the floor plan allows a person to 'visit' Hsinchu, OMO performances offer a full music experience that people explore and wander through.
The space that needs to be designed for a live concert is only the stage, and there is no need to design the flow of audience entry and viewing, but an exhibition needs it. An exhibition is much more engaging and cohesive than a performance. Through curatorial design and conceptualization, performance content and marketing content extend the benefits of production and the marketing campaign. Curatorial practices can enhance the performance of  a product, making it more attractive to buyers. A product that is more attractive to buyers is also more compelling for advertisers, whose marketing will reach a wider audience, even as classical music does.
Planning an exhibition is mostly long-term. Understand and learn the design and thinking of a long-term exhibition space, and transform it into a long-term virtual space with reference to exhibition planning, in addition to pop-up stores.
The new streaming language
Classical music organizations will soon consist of groups of people who manage  live, in-person performances and different groups of people who manage digital performances, including streaming, virtual performances, and previously recorded content. The people who manage the digital content will have more decision-making power in the organization, as they will generate more revenue. This will be a huge change!
But, it has already begun. Since the impact of the pandemic, almost all record companies have begun exploring how to move their content online. Just think of Yo-Yo Ma's Bach Project Tour. He and his team were able to quickly pivot to online concerts as lockdowns interrupted his major world tour. Because they have more than 20 years of experience in cross-over and different fields of cooperation. Cross-over cooperation is not one-way, but two-way, and requires the ability to convert. Currently, most classical musicians only transfer the content of video shooting to online platforms with one-way thinking. They are still lacking the new streaming language for production and digital marketing.
Classical music record companies have not been taking the idea of delivering content online seriously, but they must have more faith in classical music fans moving forward. Not all of these fans are older people who may not be interested in digital performances. In contrast, more and more private associations of online classical music-lover clubs and Youtubers (especially many young Youtubers who love classical music in China and in Taiwan create very interesting and creative video content) are more active and use technology, multimedia and social media. Group software promotes love for classical music, especially as performers become more fluent in the new streaming language.
Becoming different!
If you are a classical musician, don't rely too much on music training and expectation stuck in the past and married to tradition. You should step out of your echo chamber to experience and absorb multicultural connotations across different fields to help you develop an abundant concept of performance and album production. Studying anthropology at Harvard University gave Yo-Yo Ma a different vision for his career and his three recordings and projects for Bach's six Suites for Solo Cello. It could be the case study for classical musicians and their managers.
If you are the manager of aclassical organization, try to imagine using a virtual exhibition space (especially one designed with a show theme) for marketing, promotion, ticketing, and the relationship with customer and sponsor. Of course, at the same time use big data to obtain effective and accurate audience analysis and change development.
If you are the producer of a classical organization, mastering the new language of streaming video shooting can create a rich and charming virtual stage for your musicians, and then attract audiences who are willing to keep buying tickets to the virtual concert scene. Please be a curatorial producer in the post-Covid era.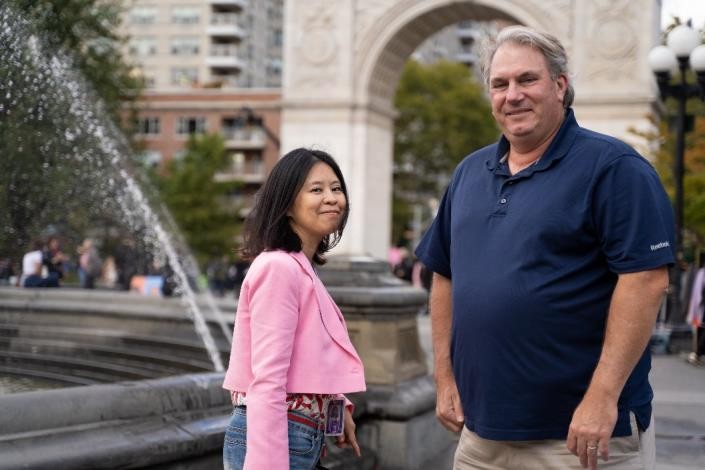 Managing Editor: Chao-Hui Wei (Bonnie) 魏肇慧